Caryl Hull Leavitt Artist Talk
October 10 @ 7:00 pm

-

9:00 pm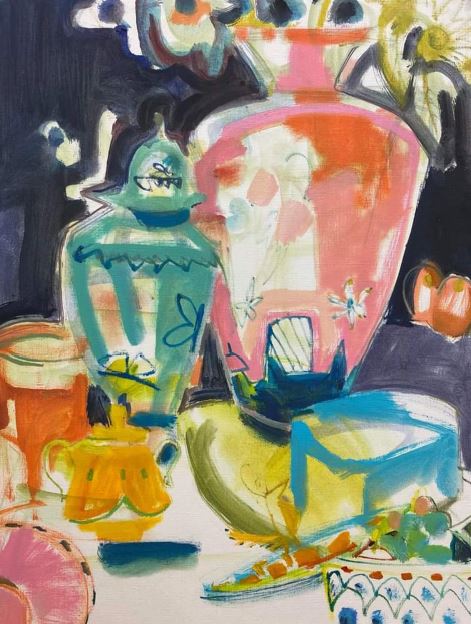 In Person or Online
Making sense of the world around me – in shape, pattern and color.
Hull-Leavitt's talk and demonstration, offered in partnership with the Art Wellesley, will focus on her recent work, some of which is on display at the Tolles Parsons Center starting September 28. Her energetic tablescape paintings – The Dinner Party series – celebrate joy and abundance with dynamic color and familiarly festive shapes. Hull-Leavitt is a painter working from observation and intuition, interpreting her experiences through patterns, shapes and color. She sees dynamic compositions in fleeting moments and responds to them with loose brush strokes and gestural marks, favoring expression over exact likeness. "Painting is my way of being very present in the world. My art comes from observing what's around me, an emotional response to what I see and an exploration of materials that leads to its own kind of discovery and storytelling," reflects Hull-Leavitt.
Art has been a consistent force throughout her life. Raised in NY, going to museums and art fairs was a usual family outing. After graduating from Hampshire College with a BFA, she spent her career as a founder and creative director of a design firm specializing in biotech while raising her now grown family. She paints full time and shows throughout NY and New England.
Registration is required, Click Here to register