Hanover Days Juried Art Show Drop Off
June 3 @ 2:00 pm

-

5:00 pm

$10.00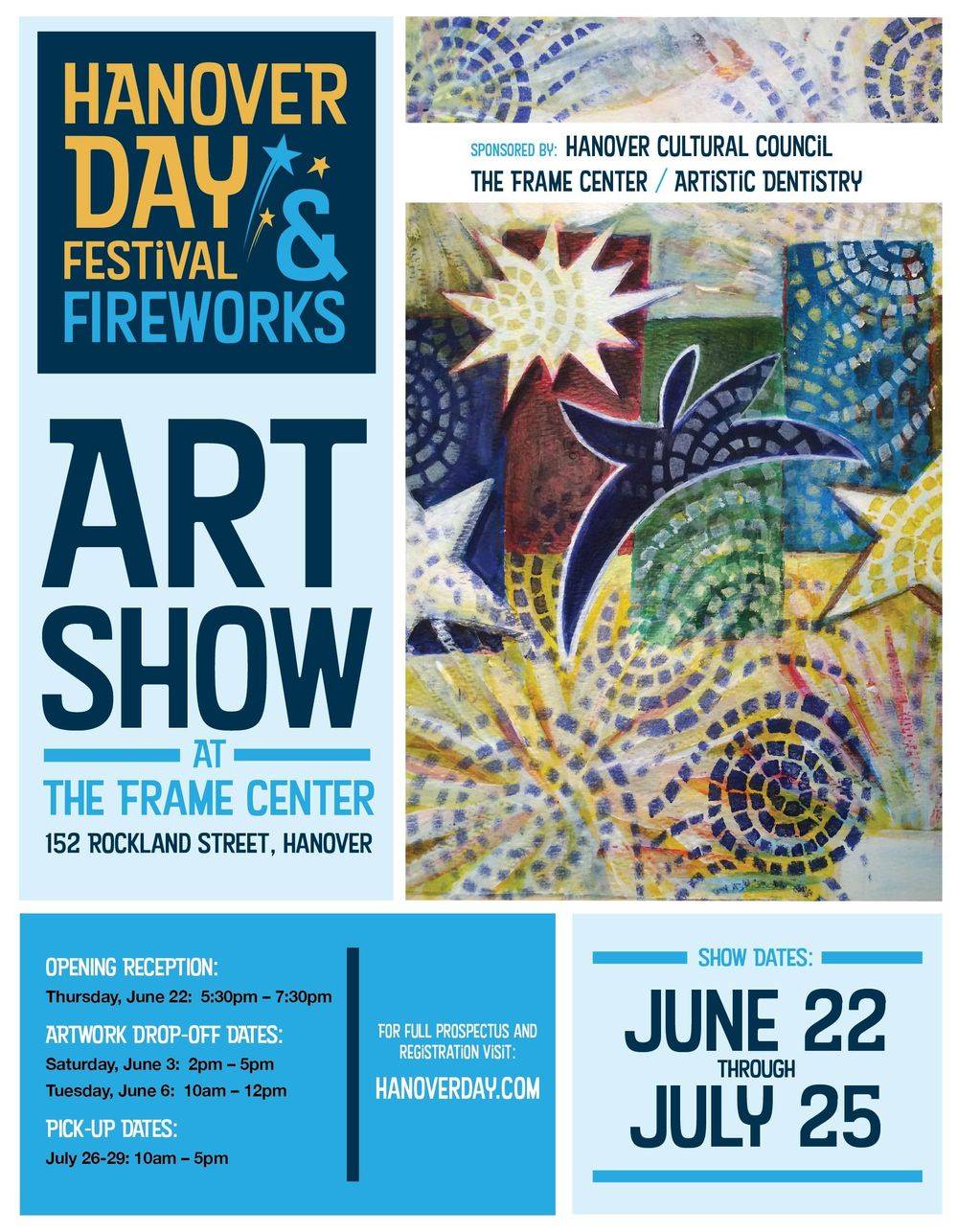 General Terms, Conditions & Guidelines
Hanover Day Juried Art Exhibit
at the Frame Center, 152 Rockland St., Hanover, MA
Exhibition Dates: June 22—July 25, 2023
Artists' Awards Reception: Thursday, June 22,, 5:30 – 7:30pm
ELIGIBILITY: Open to all artists & any media. All artworks will be accepted in proper condition for display. **All 2-D artwork must be framed and wired. 3-D work must include a proper stand, case or pedestal, provided by the artist to ensure safety and support of the piece submitted.** Artists may submit one piece of original work. 
AWARDS: Cash Awards will be given for First Prize in each category. Categories: Photography, Drawing, Oil and Acrylic Painting, Watercolor, Mixed Media, Jewelry/Wearable Art and 3D (All media). A special "Hanover Excellence Award" will be given to an artist from Hanover, or one who depicts a Hanover-related scene or theme in their work.
JURYING PROCESS: Guest Jurors, TBD, will select works of merit in each category to receive a first prize cash award and subsequent awards, as they deem appropriate for second, third and honorable mention ribbons.
ENTRY PROCEDURE: 
 Artwork must be dropped off at the Frame Center: 152 Rockland Street, Hanover. 
Drop off dates: Saturday, June 3 from 2-6pm or Tuesday, June 6 from 10am -12pm
A completed, signed registration form and $10.00 cash entry fee must accompany artwork at drop-off. All work must be received ready for installation. Please take proper precautions in supporting your work for display. All framed work must be securely framed and wired, ready for hanging. All unframed, 2-dimensional work must also be properly prepared for hanging. Clamped glass or sawtooth hangers are not considered acceptable preparations for hanging. Artwork deemed unable to hang/install may be rejected from the exhibit. 
Due to space limitations, all 2-D artwork should be no larger than 24"x 36". Artists are responsible for providing suitable pedestals or supports for any 3-D works.
*
Pick up of work is July 26 – July 29 10:00 am – 5:00 pm. 
Neither the Frame Center nor the Hanover Cultural Council may be held responsible for work that is not retrieved by the deadline. After 30 days, artwork may be discarded.Pick 
SALES: **A commission of 20% will go the the Frame Center. 
LIABILITY:  Great care will be taken with all artwork. Artists are responsible for insuring their own pieces and equipment. The Frame Center, The Hanover Cultural Council and any volunteers or staff involved in preparing the exhibit may not be held responsible for any loss or damage to artwork or equipment.