Call for Art – 2022 Hull Artist Juried Show
March 19, 2022

-

April 15, 2022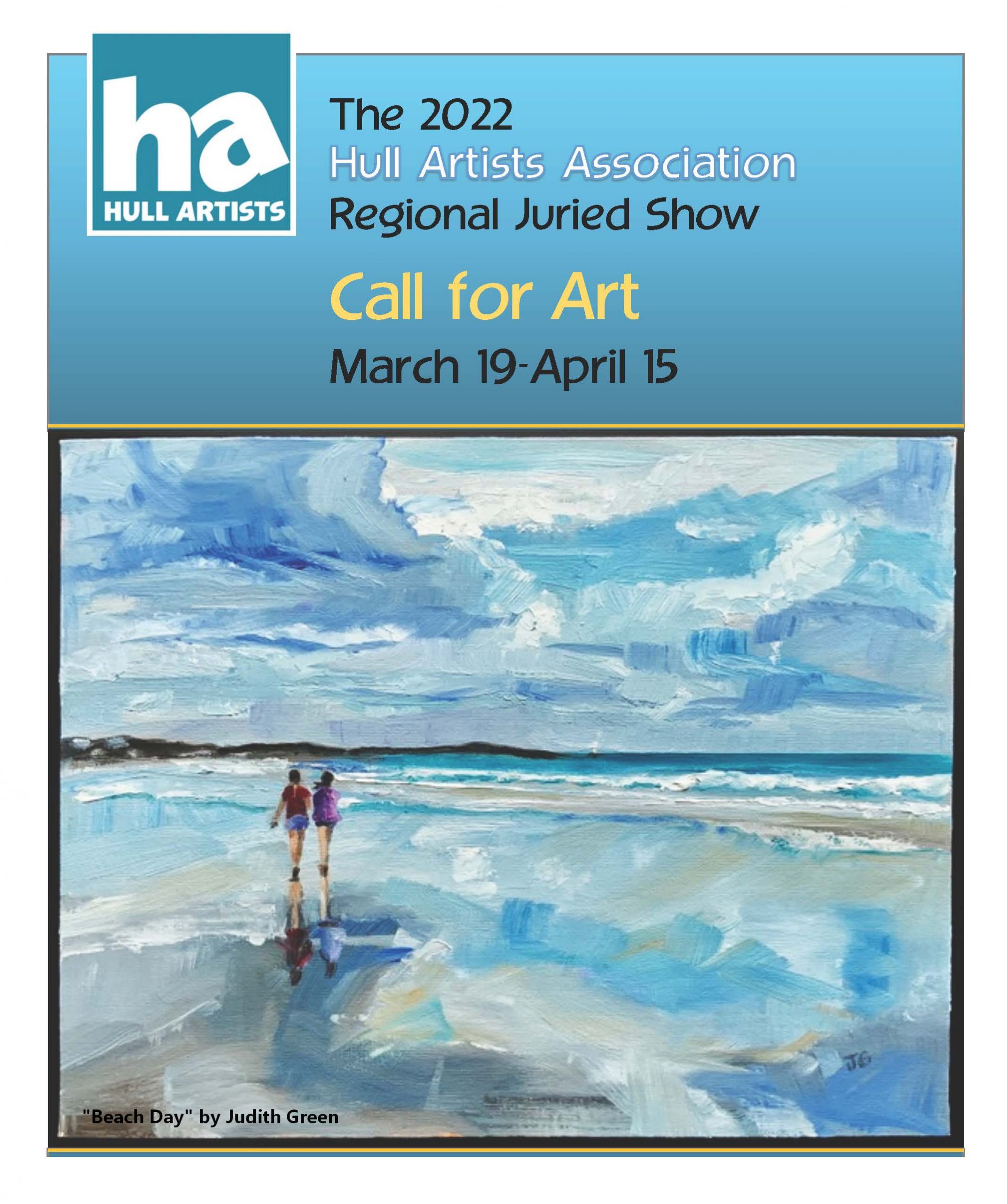 Deadline for submission: April 15th via EntryThingy.com
For more information: www.HullArtists.com/JuriedShow2022
LOCATION
The Show will be held at the recently renovated Nantasket Beach Resort, situated across the street from Nantasket Beach. The hotel is a tourist and business destination with great exposure for the show.
ELIGIBILITY
  Artists living in Hull and the surrounding region are eligible to submit entries, provided they can pick up and drop off their work.
  Only art that has not previously been hung in a Juried Hull Artists Show at the Resort may be entered.
  Only art that can be hung on walls is permitted for this exhibit. Mediums may include drawings, paintings, photographs, mixed media, printmaking, fiber art, or other 2-dimensional pieces.

ENTRY
Members of Hull Artists receive a discount on their entry fee and commission rate. Artists may join or renew Hull Artists online at: HullArtists.com/Join
Members are those whose membership expires July 1, 2022, or later.
The deadline for submitting entries is midnight, Friday, April 15th.
Entries should be submitted online at EntryThingy.com. (Search the "Calls for Entry List" for

May and Massachusetts and scroll down to the 2022 Hull Artists Association Regional Juried

Show.)

Artists will be required to upload images of their artwork in jpg/jpeg format. Your photo's file

size should be between 500kb and 8 MB with the shortest side having a minimum length of 900

pixels.

Your submitted images should be of your artwork only. (If possible, do not include the matte

and frame.) After uploading your image, you will be asked for the dimensions of the artwork

NOT including the frame.

All artwork must be original, and if accepted may not be withdrawn or substituted.
All artwork must be for sale.

ENTRY FEE AND COMMISSION
Each Hull Artist Member is limited to 6 entries at $10 each, 2 for $20, 3 for $25, 4 for $35, 5 for

$45, or 6 for $50

Each Non-Member artist is limited to 6 entries at $15 each, 2 for $30, 3 for $40, 4 for $55, 5 for

$70 or 6 for $80.

You must pay to complete your submission using PayPal or a credit card.
The commission rate is 30% for HA Members and 40% for Non-Members.
PROMOTION and SALES PROCESS
All Sales must be made through and recorded by the Hull Artists Association.
To purchase a piece a buyer will contact the HA Show Manager, Sandra Weeks, who will arrange

for the buyer to pay for it at nearby Gallery Nantasket by cash, check, or credit card. HA will

then mail a payment check to the artist.

The buyer will be requested to keep the piece in the show until the conclusion, but if they want

it at purchase, that will be accommodated.

ARTWORK PRESENTATION
All fine art and photographs must be properly framed (or a gallery-wrapped canvas) and wired for hanging (e.g., no clip-on frames or sawtooth hooks). Other mediums that are not meant to be framed are acceptable.
Each accepted piece shall include a label on the back with your name, phone number, title, and
price. Labels will be emailed when accepted art is announced.
• HAA reserves the right to not accept any art piece deemed unsuitable for hanging or presentation.
JURIED SELECTION
A panel of three jurors will determine acceptance and awards. Information about the jurors can be found on the show's website: www.HullArtists.com/JuriedShow2022
Accepted art will be announced on April 24th by email and posted on the HA website.

AWARDS
1st Place, $100. 2nd Place, $50. 3rd Place, $25. Ribbons to awardees and Honorable Mentions.
$50 for the Trish Turner Memorial Award for "the piece that best exemplifies the spirit of Trish

Turner's appreciation of and passion for the beauty of Hull and nearby communities."

OPENING RECEPTION
• On Thursday, May 12 at 7:00 PM, an opening reception and awards ceremony will be held at
the Nantasket Beach Resort, provided Covid safety protocols allow. If not possible, a virtual reception will be held via Zoom to announce the award winners and present a slide show of the accepted pieces that will later be posted on the HA website.
LIABILITY
• All due care will be used in handling the work submitted, however, HA cannot be held responsible for loss or damage. This includes loss of work from the hotel venue. Submission of your work implies your acceptance.
KEY DATES
April 15, the deadline for online submissions
April 24, announcement of accepted pieces
May 5, 9-10 AM, drop-off of accepted pieces at the Nantasket Beach Resort hotel (45 Hull Shore

Drive, Hull)

May 12, 7:00 PM, Opening Reception (in-person or on Zoom)
June 16, 9:00 AM –12:00 PM, Pickup of artwork.

For questions, visit the Hull Artists website: www.hullartists.com/JuriedShow2022 or contact Sandra Weeks (SandraWeeks55@Gmail.com) or
Lara Williams (LaraWilliamsFineArt@Gmail.com).