After shutting down for a period of time during the global pandemic, we faced some new challenges when reopening the Frame Center. Like many businesses, we needed to limit the number of customers in the shop at one time for health and safety reasons. Requiring appointments seemed like the best solution. In addition to requiring appointments, we had to rearrange our showroom to adhere to CDC guidelines. We decided to set up three of our large workbenches in such a way that we could help one customer at each bench while maintaining six feet of separation. It took a little getting used to, but after a few months we all began to realize that these changes were actually very beneficial.
Here at Frame Center, we pride ourselves on our one-on-one approach to customer service. I personally have been living this value for twenty years and can say from experience how helpful it is to assist clients by appointment. Having a schedule of who is coming in at a specific time and knowing how many pieces they will be bringing with them has been a game changer for us in terms of time management. We've found that we are more productive, accomplishing much more in one day than when we operated solely on a walk-in basis.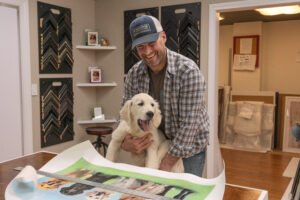 It's a win for the customer, too. Making an appointment reserves an uninterrupted time slot of an hour or more to work one-on-one with one of our design consultants. Our large workbenches will be clean, organized, and ready for their consultation. Operating in this way allows us to work more collaboratively with the customer and pull together the perfect look for their piece. Choosing just the right combination of framing materials takes time. Customers do not feel rushed knowing that we are dedicated to their project for the duration of the appointment, so they can make decisions at a pace that is comfortable for them.
We fully understand that some clients already know what they want, and a full hour time slot isn't necessary. Some drop off orders can be handled quickly, but it is still very helpful for us to know when people are coming in. Working by appointment allows us to better manage our staffing and more efficiently balance customer interaction and production.
We know it will take some time for everyone to get used to calling ahead to schedule an appointment, and we greatly appreciate your loyalty and patience during this shift in our workflow. We are not in the business of turning customers away — walk-ins will be welcome with the knowledge that those with a scheduled appointment will have priority. Some customers may be asked to wait, some may only have a short amount of time to speak with a consultant before their next appointment arrives, and if we are fully booked, some may be asked to make an appointment to come back at a later time. Those coming into the shop to visit our upstairs retail space and gallery can stop by at their convenience. Pick-ups do not require an appointment, but if you want to drop off at the same time as picking up, we ask that you call ahead.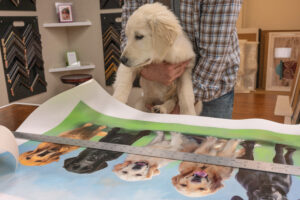 Because of the numerous benefits in terms of increased efficiency and customer satisfaction, we will work by appointment for the foreseeable future. Making an appointment with us is comparable to making a reservation at your favorite restaurant. You know you are going to receive outstanding one-on-one customer service and designers have ample time to speak with you to assess your framing needs. Our goal remains the same: to provide an unrivaled custom framing experience – every time.
By Dina Brennan